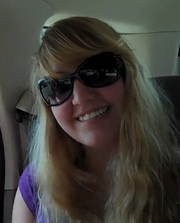 Karley is Mallory's younger sister who appears on the vlog whenever Stephen takes a trip to Wisconsin. She has taken over the vlog as "KarleyVlog" twice. She currently studies in Ireland. She is well known on the vlog for her random style of humor and outgoing personality. One of her more famous scenes of randomness was demonstrated on day 1356 of the vlog titled "I'm gonna burn those shirts" in which she rubbed Stephen's toe, mistaking it for Mallory's. She is another one of the more common fan favorites of Stephenvlog.
Ad blocker interference detected!
Wikia is a free-to-use site that makes money from advertising. We have a modified experience for viewers using ad blockers

Wikia is not accessible if you've made further modifications. Remove the custom ad blocker rule(s) and the page will load as expected.