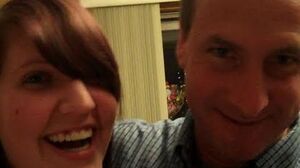 Previous Vlog (Day 394) | Next Vlog (Day 396)
Locations
Edit
Karley's Car
Quick Trip Gas Station
Manderfield's Home Bakery
Dawn's House
Mallory's Car
Mallory's Aunt Cindy's House
The vlog begins with Karley explaining that Stephen has let her vlog her trip to Manderfield's to get doughnuts. Stephen, Mallory, and Karley then head off to Aunt Cindy's House where the group and Dawn's side of the family celebrate Christmas Eve, allowing the audience to see the family and all the crazy adventures that occur. the vlog ends with Stephen and Mallory complimenting Karley on handling the vlog so well.
Ad blocker interference detected!
Wikia is a free-to-use site that makes money from advertising. We have a modified experience for viewers using ad blockers

Wikia is not accessible if you've made further modifications. Remove the custom ad blocker rule(s) and the page will load as expected.