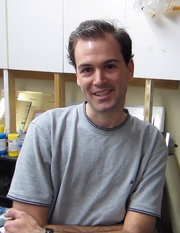 When Justin met Stephen in 9th grade, they became fast friends. Justin was responsible for many of the props and costumes in the original Earthbound-inspired live action public stunts that Stephen did in high school. He honed his craft over the years and now creates and sells props on his Etsy shop. Justin has garnered attention from many sources, including Microsoft, who commissioned him to recreate several of the weapons from the Halo franchise for their E3 2014 booth.
He is married to Laura and has two children, Sam and Leah. Justin and his family have appeared on the vlog from time to time in regular encounters regarding Justin's work and crafting skills. Justin is also responsible for creating the StephenVlog keychains that fans can obtain at PAX meetups.
Ad blocker interference detected!
Wikia is a free-to-use site that makes money from advertising. We have a modified experience for viewers using ad blockers

Wikia is not accessible if you've made further modifications. Remove the custom ad blocker rule(s) and the page will load as expected.