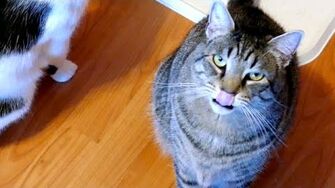 Previous Vlog (Day 2470) | Next Vlog (Day 2472)
Locations
Edit
Stephen and Mal's apartment
It's time for the cats to go to the vet. Sagan and Kepler have always had itchy ears (they aren't very good at cleaning them out), so they tend to scratch a decent amount. Lately, Sagan has been scratching a lot more than usual and this has caused some of his hair to come out. They end up getting him some ear drops so hopefully that'll help clear things up.
The rest of the day is a big work day for Stephen and Mal as they prepare for Cheffcon 2016.
Ad blocker interference detected!
Wikia is a free-to-use site that makes money from advertising. We have a modified experience for viewers using ad blockers

Wikia is not accessible if you've made further modifications. Remove the custom ad blocker rule(s) and the page will load as expected.