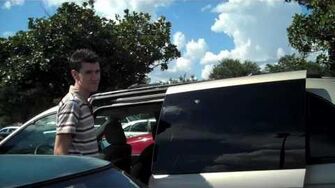 Previous Vlog (Day 266)
|
Next Vlog (Day 268)
Locations
Edit
Florida mall
Mall of Millenia
Festival Bay
Golden Corral
Florida hotel
The vlog begins with Stephen in the car on his way the Florida Mall. Stephen is going there to meet Joel and give him a hard drive that Stephen said someone could have earlier in the vlog. Before meeting Joel, however, he shows the viewer what life would look like in HD with HD vision sunglasses. He then meets Joel and Joel's friend Austin and gives Joel the hard drive before leaving Joel and Austin to go to the Mall of Millenia. After Mall of Millenia, they go to Festival Bay mall for the second time, but they actually get in this time. At Festival Bay, Stephen states that there are fake storefronts everywhere and it seems like the mall is going out of business, even though it's not. They go to Golden Corral for dinner after Festival Bay Mall. When they get back to the hotel, they hilariously play Cranium again.
The first time Stephen went to Festival Bay Mall was Day 264.
Ad blocker interference detected!
Wikia is a free-to-use site that makes money from advertising. We have a modified experience for viewers using ad blockers

Wikia is not accessible if you've made further modifications. Remove the custom ad blocker rule(s) and the page will load as expected.