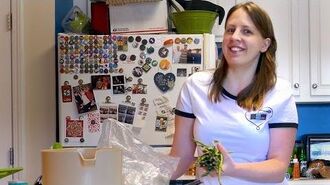 Previous Vlog (Day 2640) | Next Vlog (Day 2642)
Locations
Edit
Stephen shares that even though he feels better, he feels a lot of pressure in his head and thinks that he may be getting a sinus or ear infection. As a result, he makes a doctor's appointment for the next day.
In addition, Stephen finds that his Internet is dead, and figures out that their router is broken, probably because of a power surge they had the day before. Stephen orders a new one through a $5 protection plan to save money (which is where the vlog title comes from).
Stephen also says they would be having Movie Club on Saturday and starting it after lunch instead of dinner.
Later in the day, Stephen mentions they will be going to bed soon, but not before eating some ice cream and mochi.
"I mean, to be fair, great things come in small packages, Mal." - Stephen

"What's it say about you?" - Mal
"...it says I'm terrible!" - Stephen

"I'm eating right out of a Publix vanilla [ice cream] thing. But there's not much in there. Okay, actually there's a pretty good amount." - Stephen

"Shut up, don't judge me! I'm an adult! I can do what I want." - Stephen
Ad blocker interference detected!
Wikia is a free-to-use site that makes money from advertising. We have a modified experience for viewers using ad blockers

Wikia is not accessible if you've made further modifications. Remove the custom ad blocker rule(s) and the page will load as expected.