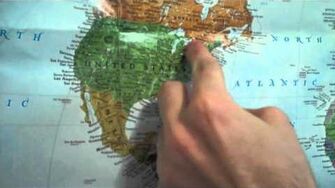 Previous Vlog (Day 290) | Next Vlog (Day 292)
Locations
Edit
Stephen's Car
Savannah Dorms
The vlog begins inside the car with Stephen wondering what the stickers on a car he sees are from. Stephen and his parents arrive at the Savannah dorms and unload Stephen's things from the two cars. A "several hours later" time card and a cut to later on in the day have the group back in the car driving to a storage facility where Stephen, Dan, Alex, and Taylor had stored some belongings such as office chairs, etc. He however notes that it's raining and so they may have to wait a bit. Another cut brings Stephen back to the dorm with Alex now present, putting up a map of the world on the wall. After another cut, it is shown that Taylor has arrived as well. Stephen ends the vlog off by showing how he's set up his part of the dorm and saying that he still has some unpacking to do and in addition, that classes resume the following day.
The vlog is named after a comment made by Alex while he and Stephen examine a map.
Alex: "It's very purple down there."
Ad blocker interference detected!
Wikia is a free-to-use site that makes money from advertising. We have a modified experience for viewers using ad blockers

Wikia is not accessible if you've made further modifications. Remove the custom ad blocker rule(s) and the page will load as expected.