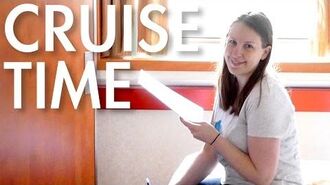 Previous Vlog (Day 2650) | Next Vlog (Day 2652)
Locations
Edit
Cruise boat cabin
Cruise boat deck
Cruise boat dining hall
Cruise boat corridors
It's cruise time! Stephen didn't manage to film the boat, but he and Mal managed to get adjoining cabins with Alex and Hayley.
The four of them then go and walk around the boat. They also talk about how they all got an app, just so they could stay in contact with each other if they split up, since they had no Internet. Even though they had to pay fr it, Hayley talks about how she appreciates having no Internet.
Later, they eat dinner in the dining hall and Stephen shows off all the amazing food they are eating. After dinner, Stephen and Alex get some ice cream (even after having dessert). Stephen also talks about maybe going to see a comedy show.
At the end of the vlog, they did not go to the comedy show, because it was packed and the comedian was bad. Instead, Stephen elected to order pizza and a sandwich, and then talks about how there is infinite hot chocolate. They also talk about what they are going to do for their day at sea the next day.
"I like mine bleeding. I have ordered things a cool red before, like when it's still cold. And I have asked for that, like I like mine alive. I want it to be living." - Hayley (about her steak)
Ad blocker interference detected!
Wikia is a free-to-use site that makes money from advertising. We have a modified experience for viewers using ad blockers

Wikia is not accessible if you've made further modifications. Remove the custom ad blocker rule(s) and the page will load as expected.