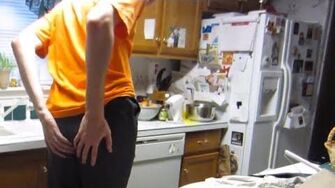 Previous Vlog (Day 1663) | Next Vlog (Day 1665)
Locations
Edit
Stephen and Mal's apartment
Stephen's parents' house
Magnolia's
Sagan and Kepler are fascinated by a squirrel that is hanging on to the screened-in porch.
In other news, it's Father's Day! Stephen gets some sleep (he didn't fall asleep last night), then he and Mal visit Debra and Steve for dinner. Stephen gets a haircut. This calls for a...
Haircut Haiku!Edit
Hair is just like flesh

If you cut it, it will bleed-

...wait. No? Nevermind.
They eat dinner at Magnolia's after much deliberation from Steve. Stephen decides to try on some dress pants he bought a couple years ago, and they fit... weirdly. They have some cupcakes for dessert, then some more cupcakes when Stephen gets home.
Ad blocker interference detected!
Wikia is a free-to-use site that makes money from advertising. We have a modified experience for viewers using ad blockers

Wikia is not accessible if you've made further modifications. Remove the custom ad blocker rule(s) and the page will load as expected.