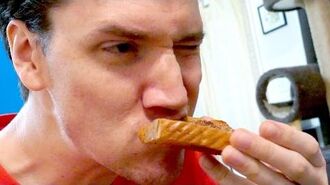 Previous Vlog (Day 2674) | Next Vlog (Day 2676)
Locations
Edit
Stephen and Mal's house
Stephen's car
Stephen starts off the vlog, talking about making toast in their toaster for a late-night snack. Mal originally wanted avocado toast, but the avocado was bad, so Stephen and Mal are both eating cinnamon toast. Stephen then talks about their method of toasting bread to get satisfactory toast. Now that the snacks are done, it's time for an episode of Seinfeld.
Later in the day, Stephen discusses what he's accomplished. He's been very busy, and has settled everything for the rest of the week. He mentions that he is also ahead in vlog content, since they've recorded ahead on mail and Q&As, and that they're just "waiting in the wing[s]", ready to be released.
He then talks about how the sun is up, and that some of the recently released vlogs mention how messed up their sleep schedules are. He stresses that even though their sleep schedules do get messed up frequently, they generally continue to get adequate sleep, and that it's usually because they are focusing on getting stuff done (like MalMakes).
He moves on to talk about how they need groceries but don't have time to do it, so Stephen gets some Bojangles' from the drive-through for breakfast. Back at the house, he comments that it's not an ideal way to live, but it should be over tomorrow when Mal finishes her Halo painting.
"Yeah, I'm in the, I'm in the mood. I'm in the mood... for cinnamon toast. For clarification." - Stephen
Ad blocker interference detected!
Wikia is a free-to-use site that makes money from advertising. We have a modified experience for viewers using ad blockers

Wikia is not accessible if you've made further modifications. Remove the custom ad blocker rule(s) and the page will load as expected.