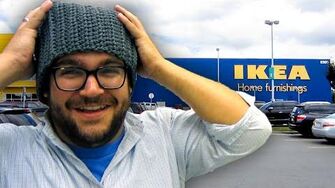 Previous Vlog (Day 2082) | Next Vlog (Day 2084)
Locations
Edit
Stephen and Mal's apartment
Charlotte, NC
Five Guys
Stephen and Jarrett take a trip to IKEA in Charlotte - as mentioned yesterday, Stephen needs a bigger desk for his new speakers. Somehow, a drive that should take 3.5 hours ends up lasting five hours instead.
When they return, they head to Five Guys for dinner - Mal kept her calorie count low for the day and Stephen and Jarrett walked a few miles while in IKEA, thus burgers are justified.
Ad blocker interference detected!
Wikia is a free-to-use site that makes money from advertising. We have a modified experience for viewers using ad blockers

Wikia is not accessible if you've made further modifications. Remove the custom ad blocker rule(s) and the page will load as expected.