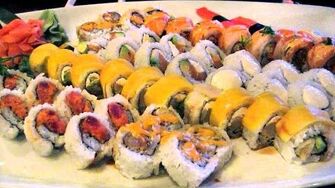 Previous Vlog (Day 1836) | Next Vlog (Day 1838)
Locations
Edit
Stephen and Mal's apartment
King Kong Sushi
To celebrate their recent accomplishments and productivity, Stephen and Mal treat themselves to a nice (and wonderfully plated) sushi dinner.
Earlier today, Stephen had to think outside the box a little bit when editing footage for December's StephenCraft video. Essentially, he had to take a compressed video file and make it uncompressed. He could have spent several hours trying to transcode the file, but instead he just ran the video on his computer and took a screen capture of it, resulting in the desired file format. Stephen invites the viewers to share stories of times when they thought creatively when presented with a problem.
Ad blocker interference detected!
Wikia is a free-to-use site that makes money from advertising. We have a modified experience for viewers using ad blockers

Wikia is not accessible if you've made further modifications. Remove the custom ad blocker rule(s) and the page will load as expected.