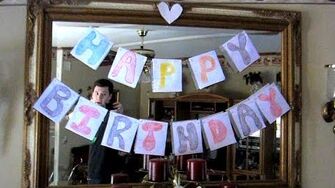 Previous Vlog (Day 2142) | Next Vlog (Day 2144)
Locations
Edit
Stephen and Mal's apartment
Georg house
Carrabba's
It was Debra's birthday a few days ago, but the family wasn't able to get together due to the flooding. Now that the rain has passed, it's time to celebrate with Italian food.
Stephen has also decided to put the cats on a diet. They're getting a little plump, so Stephen no longer leaves food in their bowls all day.
Ad blocker interference detected!
Wikia is a free-to-use site that makes money from advertising. We have a modified experience for viewers using ad blockers

Wikia is not accessible if you've made further modifications. Remove the custom ad blocker rule(s) and the page will load as expected.