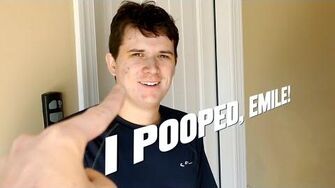 Previous Vlog (Day 2572) | Next Vlog (Day 2574)
Locations
Edit
Emile's House
Stephen and Mal's house
Stephen and Mal bid farewell to Emile and Masae and make the drive back home to Myrtle Beach. They'll be hosting a New Year's party soon, so they have to spend lots of time and energy setting up the house. That will prove challenging since they have needed to catch up on sleep for a long time. Stephen probably won't be able to record Fallout 4 before crashing.
Ad blocker interference detected!
Wikia is a free-to-use site that makes money from advertising. We have a modified experience for viewers using ad blockers

Wikia is not accessible if you've made further modifications. Remove the custom ad blocker rule(s) and the page will load as expected.