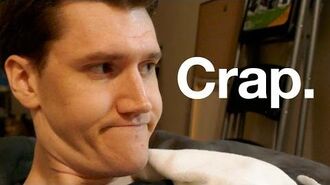 Previous Vlog (Day 2664) | Next Vlog (Day 2666)
Locations
Edit
Stephen and Mallory recorded December Mail, and when playing back the footage, Stephen found that it wasn't using the microphone and that it had caused some weird artifacting in the video.
He reckons it was because he was scatterbrained and plugged the microphone into the headphone jack of the camera, instead of the microphone jack. ...which is bad, and Stephen feels pretty upset about it. He's worried that he might have broken the camera, because his mistake should only have affected the audio, not the video. He's also perplexed since they've recorded a lot of hours with that camera, and they've never had this sort of problem.
However, things should be fixed for the next day when they record January Mail.
The camera Stephen refers to in this vlog is their GH4, which they use to record MalMakes, Q&A and Mail videos. Stephen unboxed it on Day 2189.
Ad blocker interference detected!
Wikia is a free-to-use site that makes money from advertising. We have a modified experience for viewers using ad blockers

Wikia is not accessible if you've made further modifications. Remove the custom ad blocker rule(s) and the page will load as expected.