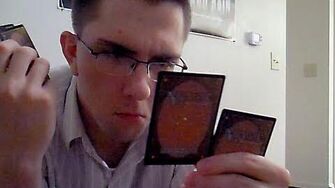 Previous Vlog (Day 514) | Next Vlog (Day 516)
Locations
Edit
Stephen and Alex play some Magic Pack Wars with some packs sent in a few days ago. Stephen notes that he and his roommates have taken to drinking tea instead of soda.
Spoiler alert: Alex wins the game.
Stephen: "I'm at seventeen."

Alex: "Oh, we're even now!"
Stephen: "You're at fourteen."
Ad blocker interference detected!
Wikia is a free-to-use site that makes money from advertising. We have a modified experience for viewers using ad blockers

Wikia is not accessible if you've made further modifications. Remove the custom ad blocker rule(s) and the page will load as expected.