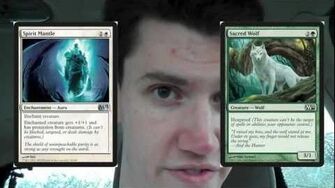 Previous Vlog (Day 591) | Next Vlog (Day 593)
Locations
Edit
Apocalypse Comics
Stephen's car
Seth's house
A movie theater
Stephen's parents' house
Today is the Magic 2012 pre-release, so Stephen, Mal, and William, Stephen's neighbor, stop by Apocalypse Games for the event.
Afterwards, Stephen and Mal meet up with Seth, who has recently returned from Africa... with a genuine African sword with several daggers built in. They go watch the film Super 8 together.
Stephen ends the vlog by professing his love for Magic.
Stephen: "It was way better than Cloverfield."

Seth: "So is taking a dump."
Ad blocker interference detected!
Wikia is a free-to-use site that makes money from advertising. We have a modified experience for viewers using ad blockers

Wikia is not accessible if you've made further modifications. Remove the custom ad blocker rule(s) and the page will load as expected.