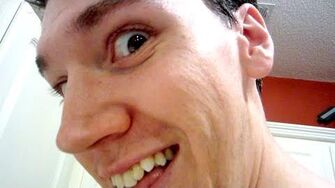 Previous Vlog (Day 1633) | Next Vlog (Day 1635)
Locations
Edit
Stephen and Mal's apartment
Continuing with this week's theme of simpler meals, Stephen and Mal make tacos for dinner. Wile Stephen makes a mess stirring the hamburger meat, he explains that he and Mal both prefer smaller soft shell tacos. During dinner, Mal somehow convinces Stephen to eat an entire taco at once. He manages to snort sour cream into his nose.
Ad blocker interference detected!
Wikia is a free-to-use site that makes money from advertising. We have a modified experience for viewers using ad blockers

Wikia is not accessible if you've made further modifications. Remove the custom ad blocker rule(s) and the page will load as expected.