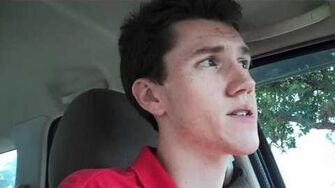 Previous Vlog (Day 309) | Next Vlog (Day 311)
Locations
Edit
Stephen's car
UrgentOne Clinic
Wal-Mart
Stephen's dorm
Stephen is up unusually early today, on account of the fact that he has another ear infection. This is only his second ear infection ever, but the last one he had was in February. He picks up some antibiotics and some food with the hopes that he will feel better shortly.
Stephen also announces that Jarrett is coming to visit for a few days.
Ad blocker interference detected!
Wikia is a free-to-use site that makes money from advertising. We have a modified experience for viewers using ad blockers

Wikia is not accessible if you've made further modifications. Remove the custom ad blocker rule(s) and the page will load as expected.