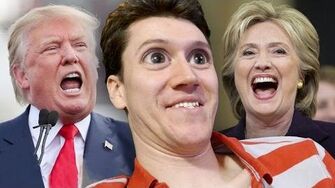 Previous Vlog (Day 2497) | Next Vlog (Day 2499)
Locations
Edit
Stephen and Mal's apartment
It's a suuuuper fun night for Stephen and Mal: it's the day of the first presidential debate. Stephen is sick of the election cycle, he can't stand hearing about the election anymore, and he hates the candidates' voices. He is also unsure what purpose the debate served, since most people seem to have made up their minds about what candidate they will vote for.
November can't get here soon enough.
Ad blocker interference detected!
Wikia is a free-to-use site that makes money from advertising. We have a modified experience for viewers using ad blockers

Wikia is not accessible if you've made further modifications. Remove the custom ad blocker rule(s) and the page will load as expected.