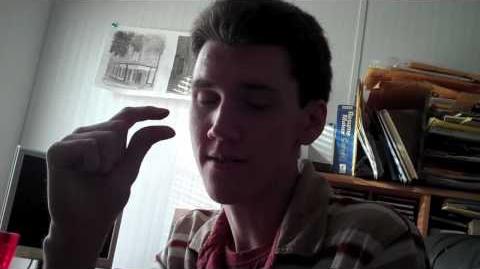 Previous Vlog (Day 115) | Next Vlog (Day 117)
Locations
Edit
Stephen's family home
Coastal Grand Mall
Best Buy
KMart
Benjamen's
Today is Stephen's 21st birthday, he and Mallory are heading to the Coastal Grand Mall to meet Justin. He has something to give Stephen but he doesn't know what it is. At the mall, they get some Japanese food and go to a fashion show that Justin's sister-in-law is in. Stephen seems indifferent about the whole thing. They later go to Best Buy because Mallory has gift cards to use.
They meet back up with Justin who gives Stephen a steady cam. Stephen talks about how Justin makes a lot of props that have been shown on the vlog. He even made props for a movie they did, A Family's Revenge. Stephen and Mallory head over to KMart where there is a car show. After a little gas problem, they go to a beach wear store because Mallory needs to get something fore her roommates.
At the house, Stephen opens his birthday gift from his parents; a card, a book, a framed picture, and a jar. They go out to eat at a sea food place called Benjamen's. Stephen weighs himself and Rocko on the Wii Fit. They end the day with some cake and Rocko.
Stephen has shown Justin's props on Day 3.
Ad blocker interference detected!
Wikia is a free-to-use site that makes money from advertising. We have a modified experience for viewers using ad blockers

Wikia is not accessible if you've made further modifications. Remove the custom ad blocker rule(s) and the page will load as expected.