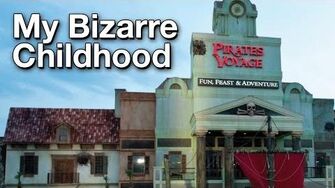 Previous Vlog (Day 2489) | Next Vlog (Day 2491)
Locations
Edit
Pirate's Voyage
Stephen and Mal's apartment
Stephen, his family, and Lindsey head out to the Pirate's Voyage dinner show tonight. Stephen decides to share with the viewers his experiences with dinner shows as a child.
Stephen's mother worked in the tourism industry in Myrtle Beach when Stephen was growing up, which meant that she got free (or heavily discounted) tickets for many different things around the city. Among those were tickets to dinner shows. These tickets would be given out a such frequency that going to dinner shows every weekend was not out of the ordinary.
Stephen's mother still works in hospitality today, which is why they were able to get tickets to the dinner show tonight. He remarks that there seems to be a great sense of camaraderie among Myrtle Beach's tourism workers - they all share the peaks of the summer season and the lows of the winter.
Ad blocker interference detected!
Wikia is a free-to-use site that makes money from advertising. We have a modified experience for viewers using ad blockers

Wikia is not accessible if you've made further modifications. Remove the custom ad blocker rule(s) and the page will load as expected.