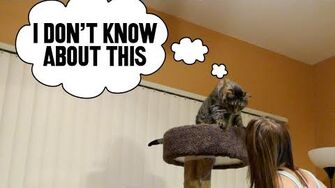 Previous Vlog (Day 2454) | Next Vlog (Day 2456)
Locations
Edit
Stephen and Mal's apartment
On account of their recent pantry blitz, Stephen and Mal have pancakes for breakfast. After that, it's a big recording day for them: they take care of most of Donkey Kong Country Tropical Freeze and a mail video in preparation for their upcoming trip to Indiana.
The vlog end with Sagan having some iissues getting down from a perilous cat tree.
Ad blocker interference detected!
Wikia is a free-to-use site that makes money from advertising. We have a modified experience for viewers using ad blockers

Wikia is not accessible if you've made further modifications. Remove the custom ad blocker rule(s) and the page will load as expected.