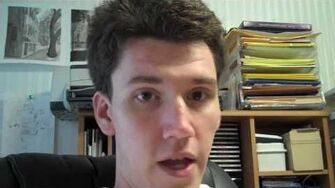 Previous Vlog (Day 213)
|
Next Vlog (Day 215)
Locations
Edit
Stephen's Car
Myrtle Beach
Stephen's house
The vlog begins with Stephen and Mallory going to the beach and doing various errands.
Before going to the beach, they check his mail and eat at Zaxby's.
At the beach, Stephen cannot trade Pokémon because his Gastly is not a Haunter yet, so they go boogie boarding. He attempts to level his Pokémon, but his DS dies before he can trade with Austin.
He then proceeds to open the letter he got in the mail. Alan (SirCampbellSoup) in Elizabethtown, NC sends him a few signed lands and various other cards.
He then plays Chrono Trigger live for Fangamer.net .
Stephen: "I prefer it hot, but we can't all be men."

Mallory: "We can't all be Southern, either."
Stephen: "I know. It's a shame. God couldn't bless all of us. Just some of us."
Ad blocker interference detected!
Wikia is a free-to-use site that makes money from advertising. We have a modified experience for viewers using ad blockers

Wikia is not accessible if you've made further modifications. Remove the custom ad blocker rule(s) and the page will load as expected.