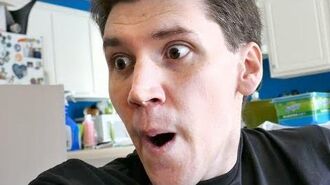 Previous Vlog (Day 2705) | Next Vlog (Day 2707)
Watching Neighbor Cat • Astronocats 🐈
Locations
Edit
Clark's
Stephen and Mallory's house
Stephen and Mallory meet up with Austin and Nikki for lunch at Clark's and have good food.
Back at the house, Stephen complains about Walmart's self-checkout machines, which are based on weight. It was annoying because they had 3 seed packets that were too light for the system to detect, which led the machine saying "ITEM NOT BAGGED" for them.
Some time later, Stephen has just finished editing the LA karaoke video with Alex and Hayley, and reminisces over how his voice was just gone after he sang Thunderstruck.
He then discusses Golf With Your Friends (which they recorded for Stephen & Friends) as being representative of a new genre of game, which is characterized by broken or ridiculous mechanics and is extremely fun to play. He also cites Goat Simulator as an example.
Before ending the day, he reveals that he will actually be going with Michael and William to the Magic: the Gathering prerelease for the new set, Amonkhet, which he hasn't done in a long long time.
Stephen and Mallory have done a First20 of Goat Simulator on StephenPlays.
Ad blocker interference detected!
Wikia is a free-to-use site that makes money from advertising. We have a modified experience for viewers using ad blockers

Wikia is not accessible if you've made further modifications. Remove the custom ad blocker rule(s) and the page will load as expected.