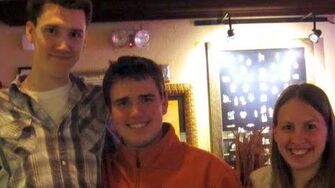 Previous Vlog (Day 1076) | Next Vlog (Day 1078)
Locations
Edit
Stephen's parents' house
Stephen's car
The Hard Rock Cafe
PetSmart
Stephen and Mal's apartment
Stephen decides to get a haircut, and eats some taco soup and cinnamon rolls in the meantime. He and Mal meet up with a fan, Tyler, for dinner at the Hard Rock Cafe. They stop by PetSmart and spot a cat that looks almost exactly like Kepler. Afterwards, they go home to practice some Donkey Kong Country 2, but Stephen gets an eyegraine before they can record anything.
Ad blocker interference detected!
Wikia is a free-to-use site that makes money from advertising. We have a modified experience for viewers using ad blockers

Wikia is not accessible if you've made further modifications. Remove the custom ad blocker rule(s) and the page will load as expected.