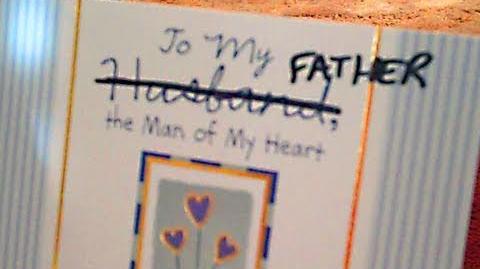 Previous Vlog (Day 571) | Next Vlog (Day 573)
Locations
Edit
Stephen celebrates Father's Day by giving his father a husband's card, which he altered to suit his purposes because he wanted to save $2. He also gives him Wii Play, which is eventually traded in for Wheel of Fortune.
On a whim, Debra decides to make some shrimp for dinner. Stephen explains that her father, who passed away around two years ago, really enjoyed shrimp. It seems appropriate to have shrimp on father's day to honor her father.
Stephen shows and sings about his dinner, which is shrimp, mozzarella sticks, and onion rings. He also talks about his haircut, explains what he is going to do the next day, and asks people to help edit the Wiki.
Ad blocker interference detected!
Wikia is a free-to-use site that makes money from advertising. We have a modified experience for viewers using ad blockers

Wikia is not accessible if you've made further modifications. Remove the custom ad blocker rule(s) and the page will load as expected.