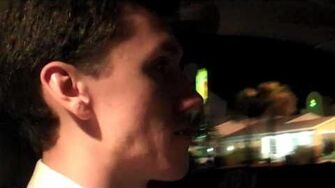 Previous Vlog (Day 256)
|
Next Vlog (Day 259)
Locations
Edit
The vlog begins with Stephen and Mallory in Stephen's car heading to work after the party that ended at 7:30 this morning. They then discuss how the rest of their work schedule is looking. After work, Stephen discusses how work went, which entails a group of people coming in while they were closing. He then moves onto a different topic, which is him attempting to reach out to his fans more directly through a forum.
Ad blocker interference detected!
Wikia is a free-to-use site that makes money from advertising. We have a modified experience for viewers using ad blockers

Wikia is not accessible if you've made further modifications. Remove the custom ad blocker rule(s) and the page will load as expected.