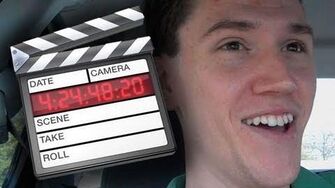 Previous Vlog (Day 485) | Next Vlog (Day 487)
Locations
Edit
Stephen's car
J. C. Penney
Stephen's parents' house
Stephen takes and passes his Final Cut Pro Certification exam! He has a celebratory dinner and picks up a bunch of green apple Jones soda to bring to Savannah. On the way out of Kroger, Stephen encounters a woman who says that he is a "short 6'6"". At J.C. Penney, Stephen finds a York peppermint patty shirt that smells like peppermint when scratched.
Back at home, he notes that Spring Break is essentially over, since he leaves for Savannah tomorrow. Things should return to normal soon when it comes to uploading and Stephen thanks the audience for their patience and understanding.
Ad blocker interference detected!
Wikia is a free-to-use site that makes money from advertising. We have a modified experience for viewers using ad blockers

Wikia is not accessible if you've made further modifications. Remove the custom ad blocker rule(s) and the page will load as expected.