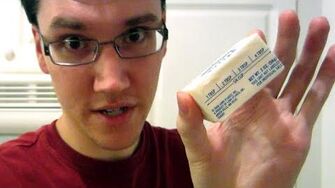 Previous Vlog (Day 1763) | Next Vlog (Day 1765)
Locations
Edit
Stephen and Mal's apartment
Stephen spends some time working on the StephenCraft video for September and helps set up the video for October.
He also realizes today that he has been consuming 1/4 of a cup of butter on his toast every day for past few days. That's over 140% of his recommended daily saturated fat intake. He remedies this by using jam instead.
Ad blocker interference detected!
Wikia is a free-to-use site that makes money from advertising. We have a modified experience for viewers using ad blockers

Wikia is not accessible if you've made further modifications. Remove the custom ad blocker rule(s) and the page will load as expected.