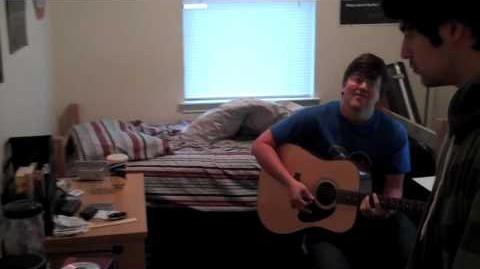 Previous Vlog (Day 97) | Next Vlog (Day 99)
Locations
Edit
Stephen's car
A gas station
KFC
Stephen's Dorm
On the way back from class, Stephen stopped at a gas station because his car's tank was almost empty. While there everyone gets food, and they buy dishwasher detergent. When Stephen says that it was $33 to fill about three quarters of his tank, Dan asks how much he has spent for the documentary. The guys eat at KFC, and Stephen gets boneless fillets. Stephen says that he has to spend the rest of the night editing.
Later, Stephen is filmed trying to give Alex a hug, which Alex strongly resists, and claims to hate Stephen. Stephen explains to Dan that he isn't going to get a hug from Alex, even if he pays him. After the statement Stephen realises that that would be a weird situation and coins the term "hugstitute", and imitates a prostitute offering hugs, instead of sex. He walks away with his head down.
In his room, Stephen says he has finished editing what he could for the rough cut. He goes on to mention that it is the only thing he has to do for school, and that his other classes are done for the quarter, in terms of work.
Ad blocker interference detected!
Wikia is a free-to-use site that makes money from advertising. We have a modified experience for viewers using ad blockers

Wikia is not accessible if you've made further modifications. Remove the custom ad blocker rule(s) and the page will load as expected.