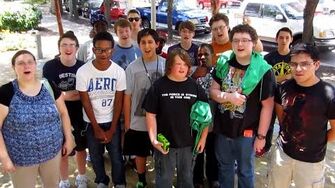 Previous Vlog (Day 1691) | Next Vlog (Day 1693)
Locations
Edit
Stephen's rental car
Houston, TX

Discovery Green Park
Kenny & Ziggy's
Fairfield Inn & Suites
Raising Cane's
Stephen and Mal drive from San Antonio to Houston. On the way there, the "change oil" light comes on, so they will have to trade in the car at an airport Hertz station. They successfully make it to the meetup, then head to lunch with Seth.
Stephen switches their hotel reservation to have one closer to Seth's house. They check into their hotel and play a game of Ascension that they purchased earlier. Dinner is at Raising Cane's, which sells only chicken fingers. They bid farewell to Seth, then try to get plenty of sleep before their long drive tomorrow.
The vlog ends with a "Let's meet back tomorrow, shall we?" from the meetup.
The distance from San Antonio to Houston is 197 miles, taking roughly 3 hours to travel.
Seth: "Goodbye, Stephen. I'll miss your body."
Ad blocker interference detected!
Wikia is a free-to-use site that makes money from advertising. We have a modified experience for viewers using ad blockers

Wikia is not accessible if you've made further modifications. Remove the custom ad blocker rule(s) and the page will load as expected.