Previous Vlog (Day 2741) | Next Vlog (Day 2743)
Locations
Edit
Horseshoe Bend (Page, AZ)
Rental car
Glen Canyon Dam (Lake Powell, AZ)
Tahoma House (Page, AZ)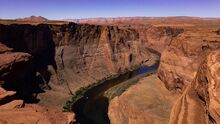 Stephen and Mallory and company start the day by taking a hike down to Horseshoe Bend (with Stephen in sandals!). It's a horse-shoe shaped part of the Colorado River.
After that, they go off to Glen Canyon Dam and hike along the Hanging Garden Trail. They ultimately reach a shaded alcove in the rock where they take some fun panorama pictures with multiples of them in the picture. And then they hike some more and take more fun pictures. Good fun time!
Back at the rental house, Mallory and Mark play ping pong but not with a ping pong ball, because it was far too windy. Besides that, they all just relaxed and enjoyed the last day of the big family trip.
Stephen and Mallory have traveled with Mark and Rhonda before and have gone with them to:
Stephen and Mallory have previously been to Arizona to:
Ad blocker interference detected!
Wikia is a free-to-use site that makes money from advertising. We have a modified experience for viewers using ad blockers

Wikia is not accessible if you've made further modifications. Remove the custom ad blocker rule(s) and the page will load as expected.