Previous Vlog (Day 2699) | Next Vlog (Day 2701)
Locations
Edit
Stephen's parents' house
Stephen and Mallory's house
It's Easter party time! Steve has made a lovely banner with the words "Hoppy Easter" for the occasion. Also, Stephen's hat (a crochet yellow Pikmin head) that he needs for the Pikmin live action video arrived! He puts it on and is really happy about it.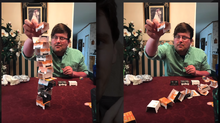 Following that, it's time to actually eat, and there is an amazing and mouth-watering array of food prepared by Deb. Afterwards, they have fun mocking Stephen for how he pronounces 'giraffe' and get ready for some cheesecake and cashew eggs for dessert. Deb also shows off the Easter packs she made for Mal, Stephen, Lindsey and Dan.
Back at the house, Stephen highlights a moment after dinner of Dan playing Cat Tower, when Mal took picture of the cat tower falling before Dan even placed his cat. All in all, it was a great time, and Stephen is thankful for his 'extended' family.
The agenda for tomorrow is to get a haircut, and to make an appointment with an ENT, since his ear is starting to feel warm and he thinks his ear infection might be worsening again.
"With my hair down to here, it makes me look like Loid Christmas." - Stephen
"That is a, uh, GI-raffe. That's a GII-raffe." - Stephen

"Is that like a lifeboat? Like a raft?" - Lindsey
"A 'draff?'" - Mal
"IT'S A 'DRAFF, DARN IT. That's a 'draff, if I've ever seen one." - Stephen

"Steve goes, 'They're not children!' I go, 'They're my children. And I have no grandbabies, and none coming any time soon, so y'all my children.'" - Deb (about the party packs she made for them)

"We, we are the children and the grandchildren. We fill in both roles." - Stephen
The giraffe/'draff joke references one of Stephen's college vlogs, Day 91.
Cashew eggs are a variant of peanut butter eggs, but instead using cashew butter.
Stephen mentioned in Day 2702 that he got his Pikmin hat on Etsy from this seller.
Ad blocker interference detected!
Wikia is a free-to-use site that makes money from advertising. We have a modified experience for viewers using ad blockers

Wikia is not accessible if you've made further modifications. Remove the custom ad blocker rule(s) and the page will load as expected.