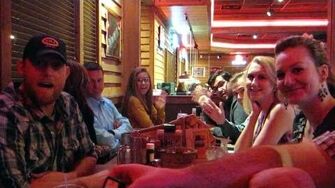 Previous Vlog (Day 1052) | Next Vlog (Day 1054)
Locations
Edit
Stephen's car
Stephen and Mal's apartment
A restaurant
Justin's house
Earlier today, Kepler managed to vomit between the bed and the bed frame. So that interrupted Stephen's sleep.
Stephen and Austin do some shopping and grab some food, then play a lot of board games at home with Mal. Later on, Stephen and co. head to Stephen's five-year high school reunion. They play some games at Justin's house, where Stephen shows off some game labels printed off by Justin (which are much better than the ones he has at home).
Stephen, Mal, and Austin end off the day by playing Grand Theft Auto: Episodes from Liberty City.
Ad blocker interference detected!
Wikia is a free-to-use site that makes money from advertising. We have a modified experience for viewers using ad blockers

Wikia is not accessible if you've made further modifications. Remove the custom ad blocker rule(s) and the page will load as expected.