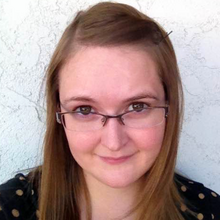 Hayley (not Haley, Halee, Haily, Hailee or whatever people come up with) is a friend of Stephen and Mallory. She was Mallory's college roommate at the University of Wisconsin-Stout after the two of them met on Starmen.net. They started talking online after learning that they both lived in Wisconsin, and became roommates when Mallory transferred to Stout.
She first appears live on Day 388. She continues to appear regularly at PAX and whenever the group gets together. Hayley also participates in the GTA Online series as well as other Stephen & Friends videos. In October 2014, she began her own YouTube channel.
She currently lives in Los Angeles, California with Alex, Stephen's college roommate. The two started dating after they met in person for the first time at PAX Prime 2013, and Hayley moved to from Minnesota to California in 2014. A general Q&A about the two of them can be found here. They became engaged on July 24th, 2016.
Hayley is proficient in American Sign Language and works as an audiologist's assistant. In her free time, she enjoys drawing #sweetdragons,playing on the StephenCraft fan server, and is also an avid weightlifter.
Quote: "I'm always 69 at heart" -@thekubliest
Ad blocker interference detected!
Wikia is a free-to-use site that makes money from advertising. We have a modified experience for viewers using ad blockers

Wikia is not accessible if you've made further modifications. Remove the custom ad blocker rule(s) and the page will load as expected.