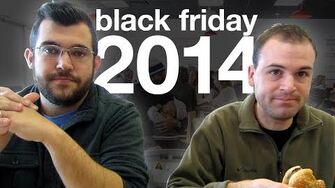 Previous Vlog (Day 1829) | Next Vlog (Day 1831)
Locations
Edit
Five Guys
Best Buy
Myrtle Beach Mall
Stephen and Mal's Apartment
It's Black Friday, so Stephen and co. head out for their yearly tradition of shopping and hanging out. And playing some Pathfinder (But that's not really a yearly tradition. Yet.)
Also, Stephen makes Jarrett and Austin play P.T. Jarrett doesn't enjoy it as much as Austin. They play some Smash Bros. to end off the night, and Austin helps them unlock Falco.
Ad blocker interference detected!
Wikia is a free-to-use site that makes money from advertising. We have a modified experience for viewers using ad blockers

Wikia is not accessible if you've made further modifications. Remove the custom ad blocker rule(s) and the page will load as expected.