Previous Vlog (Day 1544) | Next Vlog (Day 1546)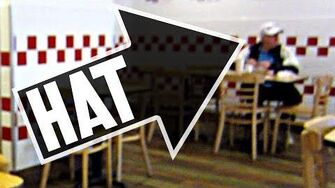 A restaurant
A store
Stephen's car
Stephen and Mal's apartment
The vlog starts off with some delicious burgers. Stephen and Mal head over to a store to buy some tape. The process is "awful and terrible and confusing." Stephen discusses the fact that wearing a hat is considered rude indoors. He asks the audience to post their location and the "hat etiquette" that is common in their area.
Back at the apartment, Stephen and Mal finish up Donkey Kong Country 3, and Mal finishes playing through The Last of Us: Left Behind.
Ad blocker interference detected!
Wikia is a free-to-use site that makes money from advertising. We have a modified experience for viewers using ad blockers

Wikia is not accessible if you've made further modifications. Remove the custom ad blocker rule(s) and the page will load as expected.