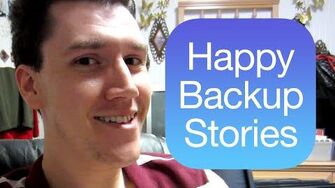 Previous Vlog (Day 1779) | Next Vlog (Day 1781)
Locations
Edit
Due to problems with a recent update for iOS, Steve's phone went into recovery mode, meaning that he had to restore the phone completely. Fortunately, Stephen set both of his parents' phone to back up to iCloud, so the backup ultimately saved them a ton of trouble. Stephen asks the viewers to share their happy backup stories.
Ad blocker interference detected!
Wikia is a free-to-use site that makes money from advertising. We have a modified experience for viewers using ad blockers

Wikia is not accessible if you've made further modifications. Remove the custom ad blocker rule(s) and the page will load as expected.