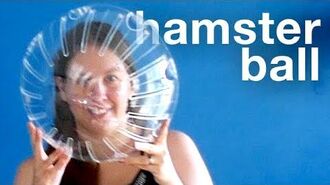 Previous Vlog (Day 2700) | Next Vlog (Day 2702)
Locations
Edit
Stephen and Mallory's house
Stephen starts off the day with a haircut, coincidentally on National Haiku Day! He also made appointments with a general care physician for tomorrow and an ENT for Thursday to get his ear checked out. It kinda sucks because their workload this week isn't bad, but both he and Mal have a bunch of doctors' appointments to go to. Anyway, it's time for lunch, courtesy of Mama Georg.
After lunch and Mal's doctor's appointment, they pick up the last important piece they need to film the live action Pikmin video: a hamster ball, which will be used as Mal's helmet. Though Mal will need to use a Dremel to get the hole bigger (so that she can fit her head inside), it's much better than using a glass fishbowl. They also managed to pick the clothing they needed from Goodwill, which sorted all the clothes there by color.
Some time later, it's dinner (Easter dinner food again), and they discuss how Lindsey is going out of town for some sort of scrap-booking convention. All that's left to do is to dremel the hamster ball for the Pikmin video filming the next day.
Ad blocker interference detected!
Wikia is a free-to-use site that makes money from advertising. We have a modified experience for viewers using ad blockers

Wikia is not accessible if you've made further modifications. Remove the custom ad blocker rule(s) and the page will load as expected.