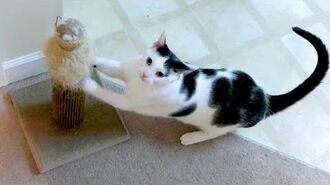 Previous Vlog (Day 2743) | Next Vlog (Day 2745)
Locations
Edit
Plane
Stephen and Mallory's house
Stephen and Mallory have returned home at last and the kitties are happy to see them! The Arizona trip was great for them: Stephen's been healing well from his appendectomy and was able to really feel relaxed on the trip. Not to mention, Arizona had such a beautiful and diverse landscape which was fascinating.
Anyways, they only have a little of work to do, and then it's time for bed.
... or not. Debra and Steve left a surprise for Stephen and Mallory for their 6th anniversary in the office: a grill!
Ad blocker interference detected!
Wikia is a free-to-use site that makes money from advertising. We have a modified experience for viewers using ad blockers

Wikia is not accessible if you've made further modifications. Remove the custom ad blocker rule(s) and the page will load as expected.