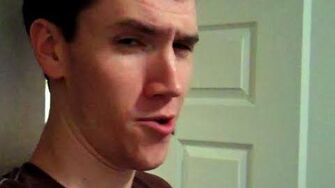 Previous Vlog (Day 536) | Next Vlog (Day 538)
Locations
Edit
Stephen finishes editing a music video for class today.
He also asks the viewers if they are having any glitches with the custom time publishing on his LP channel.
After re-watching Fobbies are Borange, a fan asks Dan to do a Bill Cosby impression on camera.
Dan points out someone who has been vlogging once a year for over 35 years. Stephen asks the viewers where they see themselves in up to ten years.
Stephen: "I hope I have grandkids."
Ad blocker interference detected!
Wikia is a free-to-use site that makes money from advertising. We have a modified experience for viewers using ad blockers

Wikia is not accessible if you've made further modifications. Remove the custom ad blocker rule(s) and the page will load as expected.