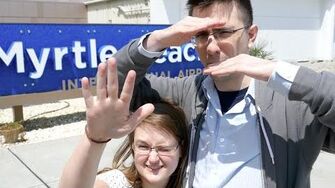 Previous Vlog (Day 2351) | Next Vlog (Day 2353)
Locations
Edit
Chick-Fil-A
Stephen and Mal's apartment
Myrtle Beach International Airport
IHOP
Stephen, Mal, Alex, and Hayley grab breakfast at Chick-Fil-A before dropping Mal off at work. The three remaining friends have a... wait... Isn't this the same thing that happened yesterday?
Alex and Hayley's flight is not canceled today, (un)fortunately. Stephen does some work before picking up Mal from school. After a nap, Stephen and Mal have an I-miss-my-friends dinner at IHOP, then Stephen spends some more time back at work.
Ad blocker interference detected!
Wikia is a free-to-use site that makes money from advertising. We have a modified experience for viewers using ad blockers

Wikia is not accessible if you've made further modifications. Remove the custom ad blocker rule(s) and the page will load as expected.