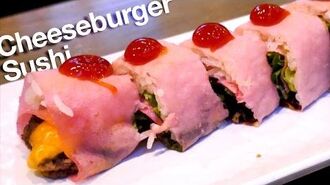 Previous Vlog (Day 2630) | Next Vlog (Day 2632)
Locations
Edit
Stephen and Mal's house
Broadway at the Beach
Stephen's car
Art Burger Sushi Bar
Krispy Kreme drive-through
Stephen starts off the vlog with them cooking up eggs for lunch, and talks about their plan for the day, which involves Mal finishing her painting and them going out for a sushi date night.
They then leave the house for their date night and find the sushi restaurant, King Kong Sushi, to be closed for remodelling. Instead, they go to Art Burger Sushi Bar at the Boardwalk, and comment that the Boardwalk was "ghost town dead" because hardly anyone is around off-tourist season.
They found Art Burger Sushi Bar interesting, because it also sells art. They also had some interesting sushi rolls, most notably a burger roll, but probably wouldn't go back again.
Stephen then drives to Krispy Kreme to get some donuts, and ends the vlog by saying that Dan and Lindsey would be going over to their house for dinner the next day.
Ad blocker interference detected!
Wikia is a free-to-use site that makes money from advertising. We have a modified experience for viewers using ad blockers

Wikia is not accessible if you've made further modifications. Remove the custom ad blocker rule(s) and the page will load as expected.