Previous Vlog (Day 2734) | Next Vlog (Day 2736)
Locations
Edit
Tuzigoot National Monument (Clarkdale, AZ)
Rental car
The Asylum restaurant in Jerome Grand Hotel (Jerome, AZ)
'Ghost town' (Jerome, AZ)
Montezuma Castle (Camp Verde, AZ)
Montezuma Well (Camp Verde, AZ)
Picazzo's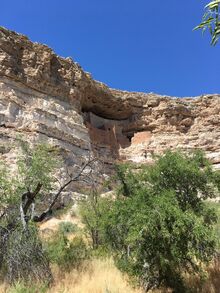 The day starts off at Tuzigoot National Monument, with the quartet looking over at Arizona.
Their next stop is a town called Jerome, which is apparently a ghost town. As it turns out, only a part of it is abandoned. Anyway, it's time for lunch so they grab some food in a hospital that's been re-purposed into a hotel.
After lunch, they check out the 'ghost town' with all its ghost junk. The mannequins make the town a little spoopy but it's fun to explore.
They then head to Montezuma Castle (which is not related to Montezuma as well) and learn more about its history. They also stop by Montezuma Well nearby. After a long day, it's time for dinner at Picazzo's.
Back at the hotel, Stephen shares that even though he was worried about how he would do on his trip (because of the appendectomy), he got through most of the day before feeling any pain from walking. It's time for bed, so they can wake early the next day to go for a hike.
Stephen and Mallory have traveled with Mark and Rhonda before and have gone with them to:
Stephen and Mallory have previously been to Arizona to:
Ad blocker interference detected!
Wikia is a free-to-use site that makes money from advertising. We have a modified experience for viewers using ad blockers

Wikia is not accessible if you've made further modifications. Remove the custom ad blocker rule(s) and the page will load as expected.