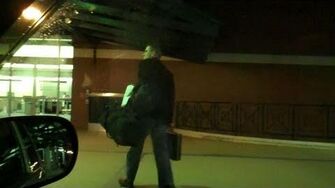 Previous Vlog (Day 458) | Next Vlog (Day 460)
Minecraft World Week 3 (Day 459 BONUS)
Locations
Edit
Stephen's dorm
Stephen's car
Savannah/Hilton Head International Airport
Stephen gets up super early to drive Alex to the airport. He is leaving for Game Developers Conference (GDC) in San Francisco. The last time Stephen drove someone to the airport, he ended up driving about 20 minutes in the wrong direction after leaving the airport.
Stephen explains that Alex often talks to very high-up people in the video game industry, and has done some incredible work when it comes to level design.
Later, Stephen announces that his second Let's Play series will be Half-Life 2.
Ad blocker interference detected!
Wikia is a free-to-use site that makes money from advertising. We have a modified experience for viewers using ad blockers

Wikia is not accessible if you've made further modifications. Remove the custom ad blocker rule(s) and the page will load as expected.