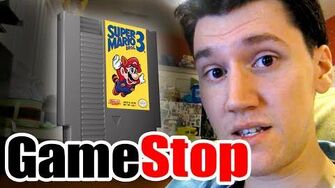 Previous Vlog (Day 1972) | Next Vlog (Day 1974)
Locations
Edit
Stephen and Mal's apartment
Stephen talks about a new program where GameStop will start selling retro games. The stores will also start accepting games and consoles for trade-in. Hopefully this program will help bring game prices down due to increased supply by a large game retailer.
Ad blocker interference detected!
Wikia is a free-to-use site that makes money from advertising. We have a modified experience for viewers using ad blockers

Wikia is not accessible if you've made further modifications. Remove the custom ad blocker rule(s) and the page will load as expected.