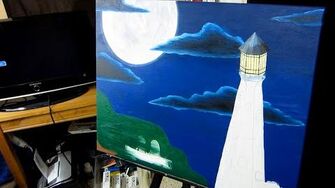 Previous Vlog (Day 2279) | Next Vlog (Day 2281)
Locations
Edit
Stephen and Mal's apartment
Mal works on a painting based on To The Moon for MalMakes while Stephen gets some of his own work done. They have a bit of a scare at the start of Mal's recording session where the new camera stopped recording after two minutes. It turns out to be a formatting issue with the camera's SD card and everything is resolved before Mal makes any progress on the painting.
Ad blocker interference detected!
Wikia is a free-to-use site that makes money from advertising. We have a modified experience for viewers using ad blockers

Wikia is not accessible if you've made further modifications. Remove the custom ad blocker rule(s) and the page will load as expected.