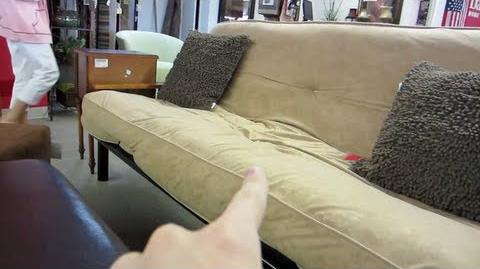 Previous Vlog (Day 978) | Next Vlog (Day 980)
Locations
Edit
Stephen's parents' car
Roses
Big Lots
Eddie Romanelli's
Stephen's apartment
Stephen buys a copy of Earthworm Jim, and he, Mallory, Steve, and Debra continue looking for a futon and rug at Roses. They buy some rugs, a futon, spices, Jones soda, and players' guides. They eat at Eddie Romanelli's for dinner.
Stephen: "Also, you can, like, you can go into the deep darkness here. The deep darkness of Rug World, oh god. Will we ever escape? I don't know. Oh god, what's gonna happen? What's gonna-we're going on an adventure."
Ad blocker interference detected!
Wikia is a free-to-use site that makes money from advertising. We have a modified experience for viewers using ad blockers

Wikia is not accessible if you've made further modifications. Remove the custom ad blocker rule(s) and the page will load as expected.