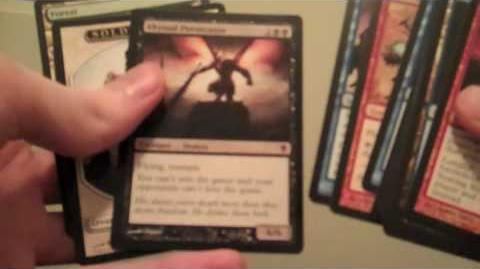 Previous Vlog (Day 85) | Next Vlog (Day 87)
Locations
Edit
The dorm at SCAD
Stephen's car (in a Taco Bell drive-thru)
The ear infection continues to take its toll on Stephen, but very generous package from a viewer named Ryan (aka xlink777) is waiting for Stephen when he gets back from class, which turns his day around. It contains several Magic boosters, from which Stephen pulls a lot of great cards. Alex screws around with Stephen's keyboard, and everybody (along with Nick) goes out for fast food. Back at the dorm, Alex and Nick argue about Taco Bell and Wendy's, and Stephen and Nick play Magic: The Gathering – Duels of the Planeswalkers in "Two-Headed Giant" mode. Stephen moans a bit more, thanks Ryan again, and talks about his plans for the next day.
Ad blocker interference detected!
Wikia is a free-to-use site that makes money from advertising. We have a modified experience for viewers using ad blockers

Wikia is not accessible if you've made further modifications. Remove the custom ad blocker rule(s) and the page will load as expected.